Ambergris Caye is the largest island of Belize located northeast of the country in the Caribbean Sea. The caye is about 25 miles long from north to south, and about 1 mile wide. The Belizean island, where it has not been modified by man, is mostly a ring of white sand beach around mangrove swamp in the center.
San Pedro Town is the largest settlement and only town on Ambergris. There are also a number of small villages and resorts. Captain Morgan's and Mata Chica resorts north of San Pedro played host to the first season of Fox's Temptation Island in 2000, aired in 2001. The availability of skydiving during the winter has become a draw for tourists.
The main attractions are the Belize Barrier Reef and its beaches. That barrier reef is the second largest in the world, after the Great Barrier Reef of Australia. The caye has a small airstrip serviced by Tropic Air and Maya Island Air, and can be reached by plane from Belize City as well as by numerous fast sea ferries.
Top activites for Ambergris Caye:
Hol Chan Marine Reserve – Hol Chan Marine Reserve is a marine reserve close to Ambergris Caye and Caye Caulker, off the coast of Belize. It covers approximately 4,448 acres of coral reefs, seagrass beds, and mangrove forest. Hol Chan is Mayan for "little channel".

Zone A which includes the inside and outside of the reef (part of the Belize Barrier Reef). No fishing is permitted in this area, but snorkeling and diving are permitted on payment of a fee.
Zone B covers the sea grass beds inside the reef. Both commercial and sport fishing are allowed in this area with a license.
Zone C covers the mangroves swamps of southern Ambergris Caye. No commercial fishing is allowed in this zone, but sport fishing may be carried out under license.
Zone D (Shark Ray Alley) This is a second charged snorkeling area, but commercial and sport fishing are permitted in some parts of this zone on obtaining a license

Shark Ray Alley – This is a must stop for the first introductory dive in Belizean waters. Zone D is only 15 minutes south of San Pedro by boat. Shark Ray Alley has a maximum depth of 30 feet and excellent visibility. You can almost always see all species of fish including jacks, groupers, snappers, parrot fish, angel fish, barracuda, eels, spider crabs, lobster, and nurse sharks. Divers are occasionally cautioned regarding the currents.
Great Blue Hole – This site was made famous by Jacques Cousteau, who declared it one of the top ten scuba diving sites in the world. The Great Blue Hole is a large submarine sinkhole off the coast of Belize. It lies near the center of Lighthouse Reef, a small atoll 43 miles from the mainland and Belize City. The hole is circular in shape, over 984 ft across and 407 ft deep. It was formed during several episodes of quaternary glaciation when sea levels were much lower. Analysis of stalactites found in the Great Blue Hole shows that formation took place 153,000; 66,000; 60,000; and 15,000 years ago. As the ocean began to rise again, the cave was flooded. The Great Blue Hole is a part of the larger Belize Barrier Reef Reserve System, a World Heritage Site of the United Nations Educational, Scientific and Cultural Organization (UNESCO).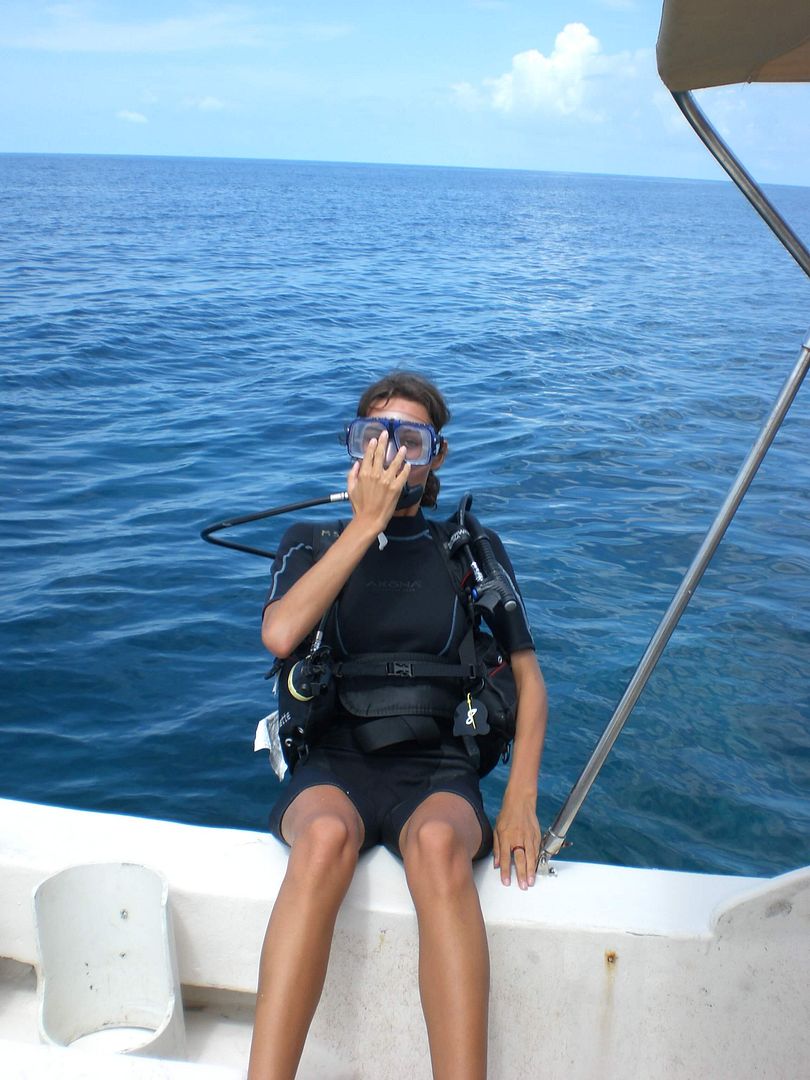 Get out of the cold and call us for your sunshine adventure to Belize!